Activities
Cross-country skiing
Downhill skiing
Sledge ride
Huskydog and reindeer sledge rides
Ice and snow rally
Snowmobiling
Gold panning
Trekking
Fishing and hunting
Canoeing
Cycling and walking
Dancing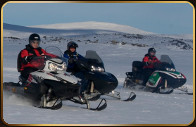 IN SUMMER:
trekking, canoeing on wild long rivers up to the Russian border, fishing – not far is Europe's biggest salmon river Teno, gold panning – a lot to be found. During midsummer the sun shines 24 hours!

IN WINTER:
perfect for cross-country skiing, husky dog and reindeer sledge rides, snowmobiling, snowshoeing, looking at the Northern Lights and swimming in a hole in the ice. Saariselkä center is a famous place for dancing, also in the afternoon with your ski boots on!!
World (?) longest sledging hill from the top of Kaunispää almost to the church.